Players enter the world of CS for a plethora of reasons. Some want to become a Master. Some are attracted by prize funds. Without a doubt, the rush of the battle, the adrenaline – all are enticing, but safely releasing aggression – this is one of the most fundamental concepts in the game.

We trustingly listened to lectures that computer games are harmful for years, and only in recent years it turned out that they can be not only not harmful, but also good for health and psyche. According to en.tsn.ua, "computer games elevate mood, save players from boredom, depression and aggressive state, and therefore, reduce the risk of rash and possibly rude and cruel acts towards other people." They also could be the key to curing dementia and loneliness in old people.

"Patrick Markey from Villanova University in Pennsylvania, during the course of a study of which 118 teenagers took part, came to the conclusion that computer games can elevate mood and prevent users users from experiencing blues, depression and aggressive states. According to his observations, popularity of computer games with aggressive scenarios does not lead to any serious problems in terms of increasing the level of aggression among today's teenagers. And even more so, according to the results of testing, children who kill virtual monsters turned out to be more agreeable and docile than peers who do not play computer games". Read more here.

If CS can positively influence players, maybe all this time the skeptics have been radically wrong and in fact the more you play, the less aggressive you become? Our friends who are interested in DotA and Just Cause 4 are the most intelligent and gentle people we know. After all, games also create tremendous exercise regimes for the brain (try, for example, learning DotA from scratch: it's as hard as writing a dissertation).

If this is true, what other advantages are there in games like the CS? People far removed from the gaming arena will never believe this, but there is aesthetics in CS.

There is definitely something sublime and exciting hidden in the fabric of our favorite map, Austria. Just as in Just Cause 3 (and, to a lesser extent, Just Cause 4, in which the atmosphere is not so beautiful), there is something stunning about how the map is put together. Yes, sparks, gunpowder, flash grenades, chases, brotherhood, tactics, strategy, surprises, homeric laughter, crushing grief – all this is there. But on top of all this, this map is simply breathtakingly beautiful.

We decided to find more custom cards for CS that users thought were visually exciting and memorable. Remember: life is short (especially in CS) – but art is forever.

Dust 2 – Christmas
Everything happens at night, the colors are indescribably beautiful, Christmas lights are everywhere, the knife is of an unforgettable color dawn over Fujiyama spilling on ink, fluffy snow slowly melts on the corpses of enemies. The huge moon creates a breathtaking atmosphere, which is ideally suited for night killers. Turn on beautiful music (watch the video at 3:30) and play in style! This is not an old default map cracking at the seams that everyone is already tired of. This, my friend, is what we are all looking for, something we find and we lose again – a beautiful, beautiful lfe.


(Mayan) Ruins

The action takes place in the jungle. Apocalypse Today comes to mind, and Schwarzenegger, who kills the Predator after rubbing clay everywhere which worked on the same principle as the invisible armor in Crysis (we think). It seems that after this scene invisible armor was firmly stuck in someone's head — and so it began — occasionally even in Just Cause you meet invisible enemies who SUDDENLY appear out of thin air to wave, shout "Bye-bye", kill you, and vanish again.

No matter where the concept of invisible armor comes from, these abandoned Mayan temples in the jungle are just the perfect option for a player who is disgusted with the work in the Office (see what we did there?). Check out at this marvelous custom map, about which thescoreesports.com lovingly wrote this.

"CS goes Indiana Jones in this defuse map that takes place in Mayan ruins. Ruins features a really cool Heart of Darkness/Apocalypse Now vibe, heightened by great lighting effects and the use of plenty of dark nooks and crannies people can gank you from. And of course, one of the bomb sites is inside an actual temple."

Fly pool day

Since we're talking beauty, of course, we have to mention Fly Pool Day. This stylish map smells of bleach and elite millionaire fitness clubs. Two things immediately spring to mind that make this map different.

1) Swimming is a very useful sport for those who sit at the computer 24/7.
2) There are excellent weapons that are piled right an arm's reach away.

Educational and fun! What more could you wish for?
"Get your weapon and fight!" Is the official motto of this map on Steam, but on top of everything else, it's also heartbreakingly beautiful. About another beautiful custom map "Museum", someone wrote that it's so well made that they would like to quietly wander about, looking at the exhibits, if the terrorists weren't firing at them.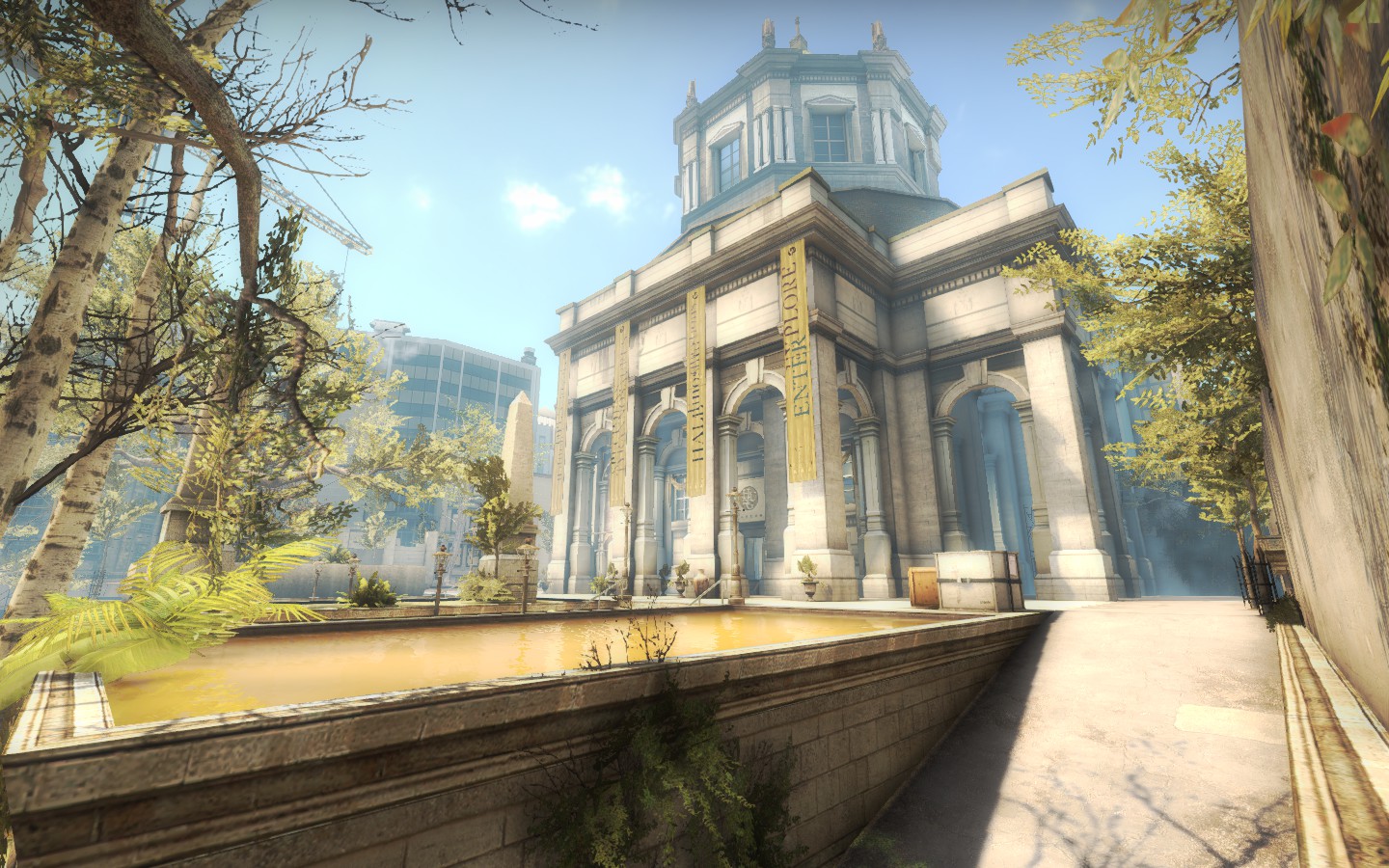 This map is an example of how to do interior design, because it makes you want to stay here, dipping your toes into the azure waters, and dreamily watch at the Grand Canyon, which can be seen above, squinting at the sun and slowly sipping a cocktail from the skull of a defeated enemy.